You've perfected your elevator pitch, but when you present, do the visuals back it up? You want your audience to see your vision and be moved to act on it, but can they see what you're saying?
To really inspire and convince your audience, you need visuals that are clear, persuasive, and engaging. With strong visual messaging, infographics and bold typography, you can make it easier for your audience to grasp the concept, visualise the outcome and retain the information you've worked so hard to perfect.
Here's how Gusto helped three companies stand out from the Word doc crowd – with a professionally designed pitch deck. Strong visual messages reinforced the groundbreaking content of their proposals, and helped them get their proposals over the line –  so they could take the next step closer to their goals. And we're not talking baby steps – we're talking leaps and bounds!
Orbit Health: The Parkinson's Solution
Munich-based Orbit Health connects doctors to a myriad of digital medical solutions to optimally manage disease. They asked us to create a pitch deck that they could use as a presentation tool and sales piece for potential investors.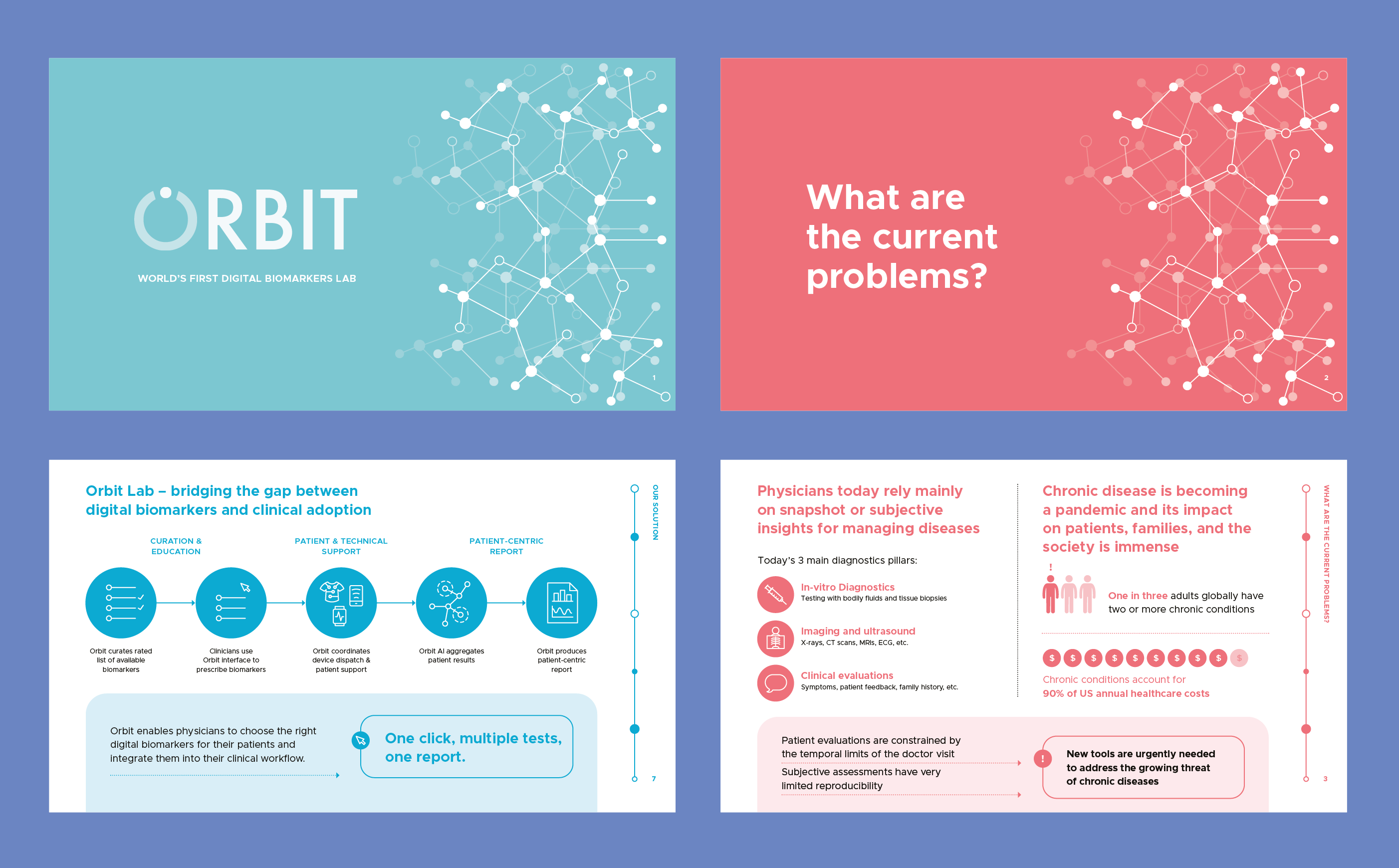 The compelling pitch deck outlines the current problems that exist, how Orbit solves these, and how Orbit works. Supported by infographics, and clear and engaging design, the presentation helps investors quickly gain a good understanding of Orbit's offering, value and potential. The contemporary design also positions Orbit as an innovative and professional company within the digital biomarkers market.
The idea 'now's the time to invest' communicated in the proposal was heard loud and clear, and the pitch deck proved to be an essential tool in securing Orbit Health 1.5 million euros of funding from EIT Health! Orbit Health will use the funding to focus on developing an artificial intelligence solution to enable the effective personalisation of treatment for Parkinson's disease. Who'd have thought a PowerPoint presentation had that kind of power?!
Foodstuffs NZ  
Gusto has assisted Foodstuffs on several winning proposals, securing nearly $2.5 million in government funding towards the installation of electric vehicle chargers for Foodstuffs supermarkets nationwide.
As part of Foodstuffs' winning proposals, Gusto was asked to provide visualisations  – 3D conceptual renderings to show in detail where the chargers would be located and how they would look at supermarket sites throughout the country. The presentation was set up as a template, making it easy to update when further funding applications were required.

The chargers are part of Foodstuffs' continual journey towards more sustainable practices and there are now upwards of 90 charge sites nationwide. They were one of the first organisations to draw on the government's Low Emission Vehicles Contestable Fund to help accelerate the uptake of electric and other low emission vehicles. Foodstuffs are charging ahead creating social change, and we're delighted to have played a part with each of their winning proposals.
Easy Crypto
Local cryptocurrency retailer, Easy Crypto, sought growth in new international markets. So we created a pitch deck for them worthy of sharing with potential investors – one that could ignite interest, and showcase their cutting-edge work in an equally polished form.

The look and feel of the presentation is based on trust, simplicity and innovation. Supported by clear and impactful infographics, multinational investors viewing the proposal can easily understand Easy Crypto's importance and contribution to the crypto market. Their story is clear. The modern and professional pitch deck design enabled Easy Crypto to put their best foot forward to the market.
Easy Crypto successfully secured $17 million NZD in a Series A funding. The raise was oversubscribed by 50% and is understood to be the biggest first funding round completed by any New Zealand firm.
—
Using visual design you can better your chances of success, tell your story visually to get your audience on side faster, and make a lasting impression by standing out from the crowd. So invest in your proposal from the beginning, and deliver the winning package.