A visual identity transforming Social Sector Commissioning


Our design approach recognises that to successfully deliver the Action Plan, MSD need to communicate regularly with three key audiences:
The Social Sector: This includes non-government organisations, community organisations, iwi affiliated/trust organisations, and philanthropic organisations that receive government funding to deliver social supports. It was crucial for the logo to showcase the strength that comes with community.
Government Agencies: We aimed to engage government agencies involved in delivering change specifically.
Decision Makers: Our communication efforts also targeted decision makers who play a key role in the commissioning process.




Our goal was to create an accessible and engaging document and summary for MSD that outlines the future direction of social sector commissioning. By doing so, we aimed to help the social sector understand the proposals and their implications on their work. An accessible and inviting design demonstrates the government's commitment to take action, while infographics enhance the content and visualise key messages. These infographics simplify the complexity of the systems, making them clear and easy to understand.
The purpose of the document and summary was to set a clear high-level direction for the future of social sector commissioning. It emphasises the importance of government agencies, social service providers, communities, and other key stakeholders working together in a deliberate and transparent manner to improve the wellbeing of New Zealanders.

Collaboration for clarity:
To ensure the overall result was clear and accessible to the broad audience, we joined forces with our regular partners, plain language consultants Write, and also collaborated with professional translation services. This ensured information included across these resources could be easily shared and understood in both Te Reo Māori and English. We wanted to help the social sector understand the proposals, and any implications on the way they work, emphasising the value for everyone in the system and clearly explaining how MSD plans to achieve their goals.



Branding the city – Visual language and information design
HCC wanted to show they were responding to the vision and aspirations of their community. Giving them a sense of the progress being made. The Annual Plan, like all the resources developed, has been created with the community in mind. Its aim is to be transparent about the council's work, how it impacts their residents, outlining what's next, and prompting engagement. Our visual language had to feature recognisable connections to the city and the people that live within it. The illustrations and photos included are representative of the diverse range of people living in Hutt City. Landmarks such as local shops, the Council building, even the 'Welcome to Lower Hutt' sign were all featured in the Plan too.



The visual billboards we designed help connect the community to the exciting HCC infrastructure projects in the works, and act as an effective way to boldly and clearly alert people to work happening in their area. Detailing in-situ; what the project is, how much money is being spent, the progress residents can expect to see, and when it can expect to be finished.
For the Pūrongo ā-Tau – Annual Report and summary we had to ensure the essential information stood out. So that navigation throughout the 200 page document was clear and easy, so HCC could effectively tell their performance story. The document needed visual design to assist in communicating the wealth of information inside. Using all the tools in our belt; a mix of photography, illustration, infographic spreads, clear design, and incorporating local landmarks and regional attributes, with a consistent visual style, we created a cohesive and engaging suite of resources for HCC that they're proud to share with their community.
Consultation on the proposed changes to the Annual Plan was live from 31 March to 30 April 2023.
HCC published the proposed changes online, along with supporting information to help their community understand the decisions they were facing. The website was viewed by 1616 people during the consultation period.
HCC also published an online survey for our community to provide feedback on their proposals. They received 124 responses to the survey, and heard from people who sent emails and came to speak to their submission in person. They also had over 1000 people view the HCC online rates calculator to see the impact of the proposed Annual Plan on their rates bill.






Eating and Activity Guidelines

A large, bespoke suite of icons were created to support content headings and make it easy to navigate through the different eating and activity sections.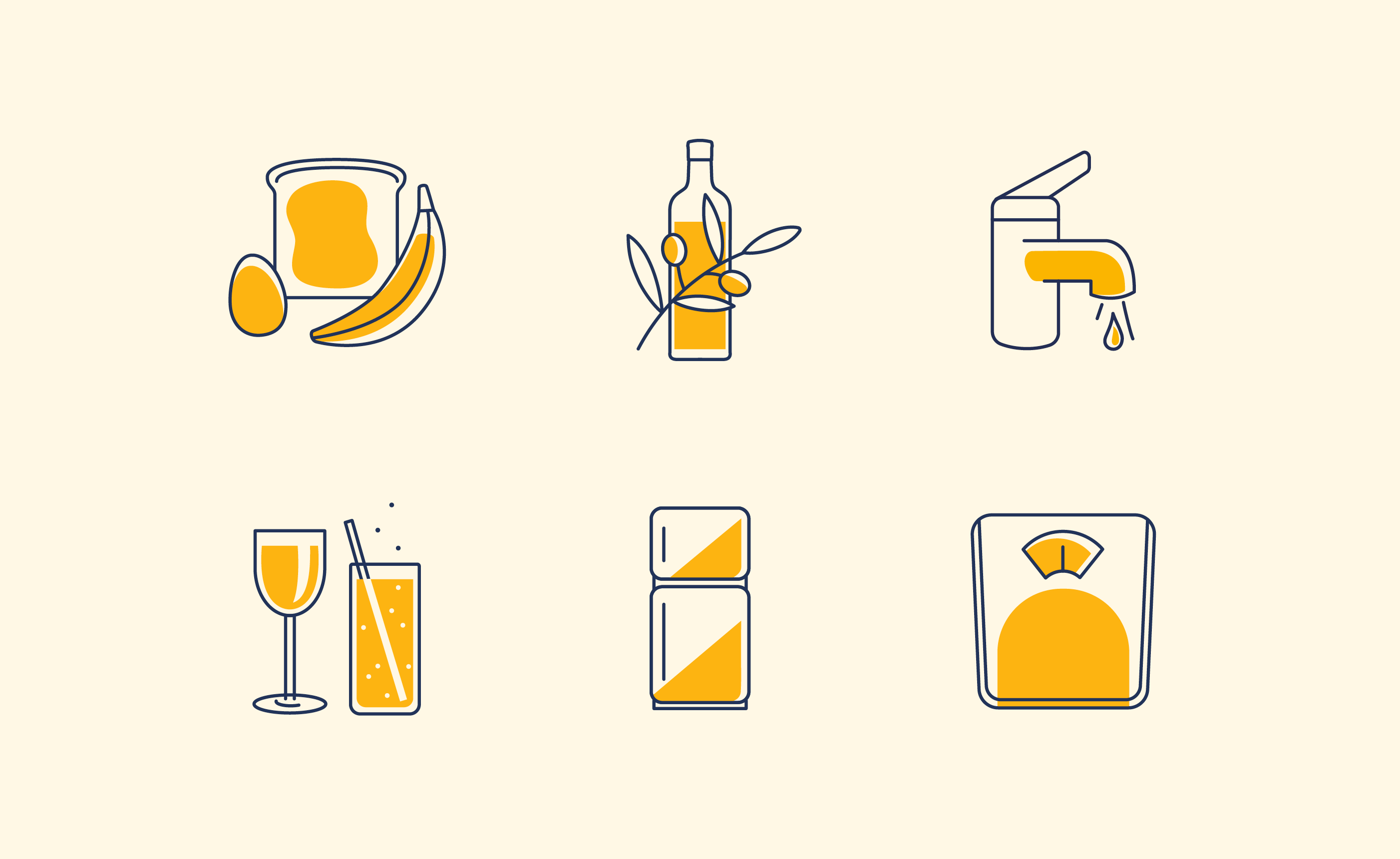 The document's recommendations are easy to digest through a consistent use of infographics, iconography, and typographic structure.
 


The Eating and Activity Guidelines is now a visually inviting, contemporary document that clearly communicates evidence-based recommendations for New Zealand adults.
Pet health insurance policy document

 

Infographics and illustrations will support the content and help to explain common customer trip ups, and communicate exclusions transparently.
The straightforward and clear design provides customers with peace of mind that they have chosen the right health insurance for their pet, and that it will meet their expectations if they ever need to claim.


We worked closely with Write to ensure the pet health insurance policy document achieved the WriteMark Plain Language Standard.
View the full policy document on the Budget Direct website.
Future state illustration
FoodHQ is an innovation hub for food technology and agricultural businesses that combines the best in science, education and business. FoodHQ asked us to create a 'future state' illustration to bring their vision to life, to help attract grants and funding.
The illustration places Food HQ at the intersection of four distinct themes, a central hub for these diverse activities.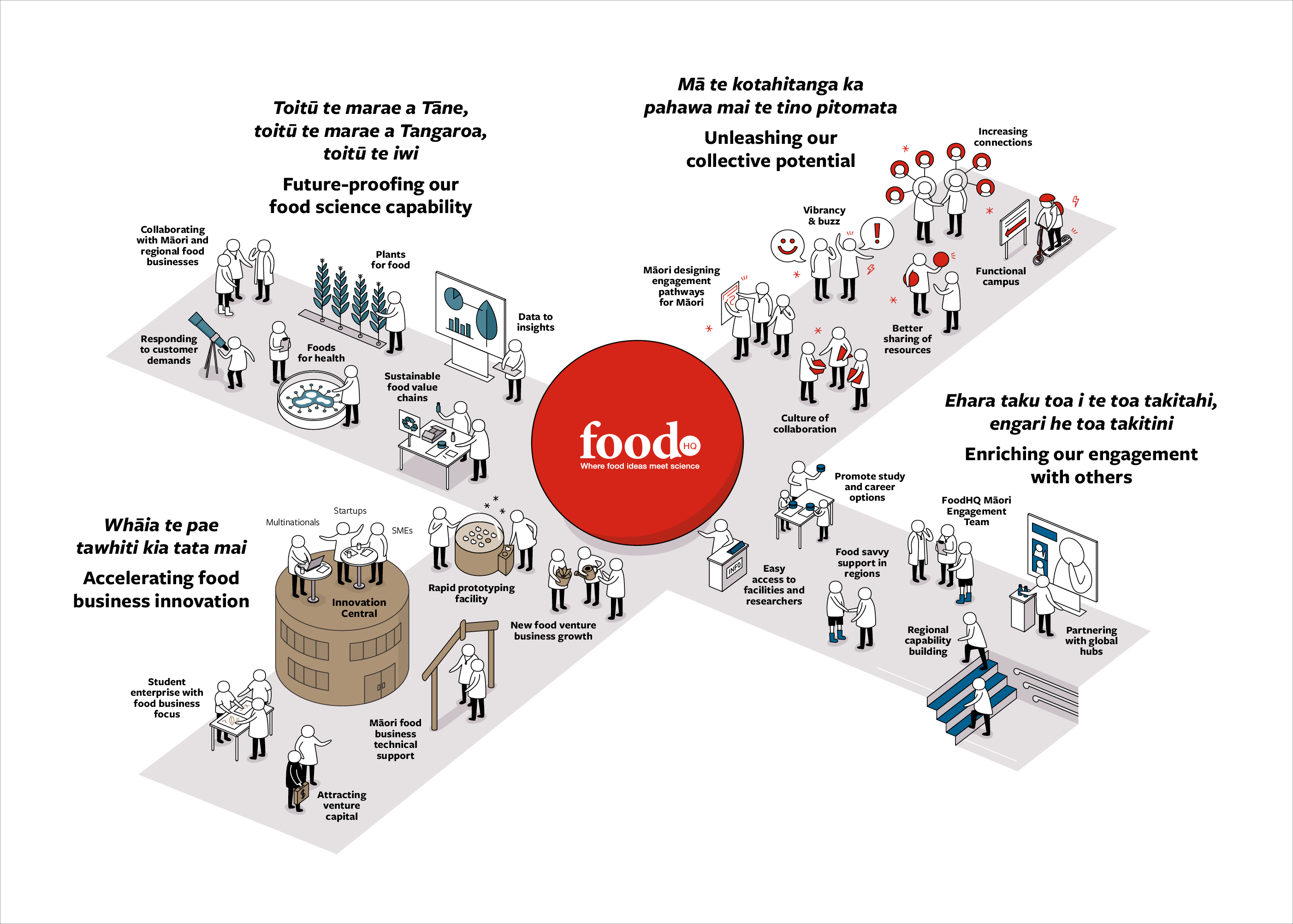 We began by working through sketches and developing each component, finding the best way to express each activity, before working up the final illustration. The characters are a step up from stick figures – non-specific yet full of movement and personality. We created a world for them using the FoodHQ brand colour palette, implementing it to help differentiate the varied roles within this collective of NZ companies, research and educational institutions that FoodHQ supports.
Here's a time-lapse video showing the refinements and iterations we made to get to the final illustration:
Environmental-Economic Accounts

The infographic combines data visualisation with illustration, resulting in a graphic that strikes a balance between the environment and the economy. The illustrations bring each industry to life, depicting the context and drivers of emissions in each area.
 


Group Plan

We worked closely with WREMO to develop infographics that elevated the content and did not lose the intention of the text – often with infographics it can be tempting to take it too far and obscure the original meaning. We began with rough sketches of ideas for each infographic to quickly see what was going to work or not work before working towards the polished final versions.


Annual Report

We decided to depict HRC's infographics as actual physical systems which enabled the reader to instantly recognise how elements connected, flowed and benefited communities. We built an illustrated world from the colours, fonts and style of the HRC brand, injected with a story and visual interest that would engage the reader at both high and detailed levels.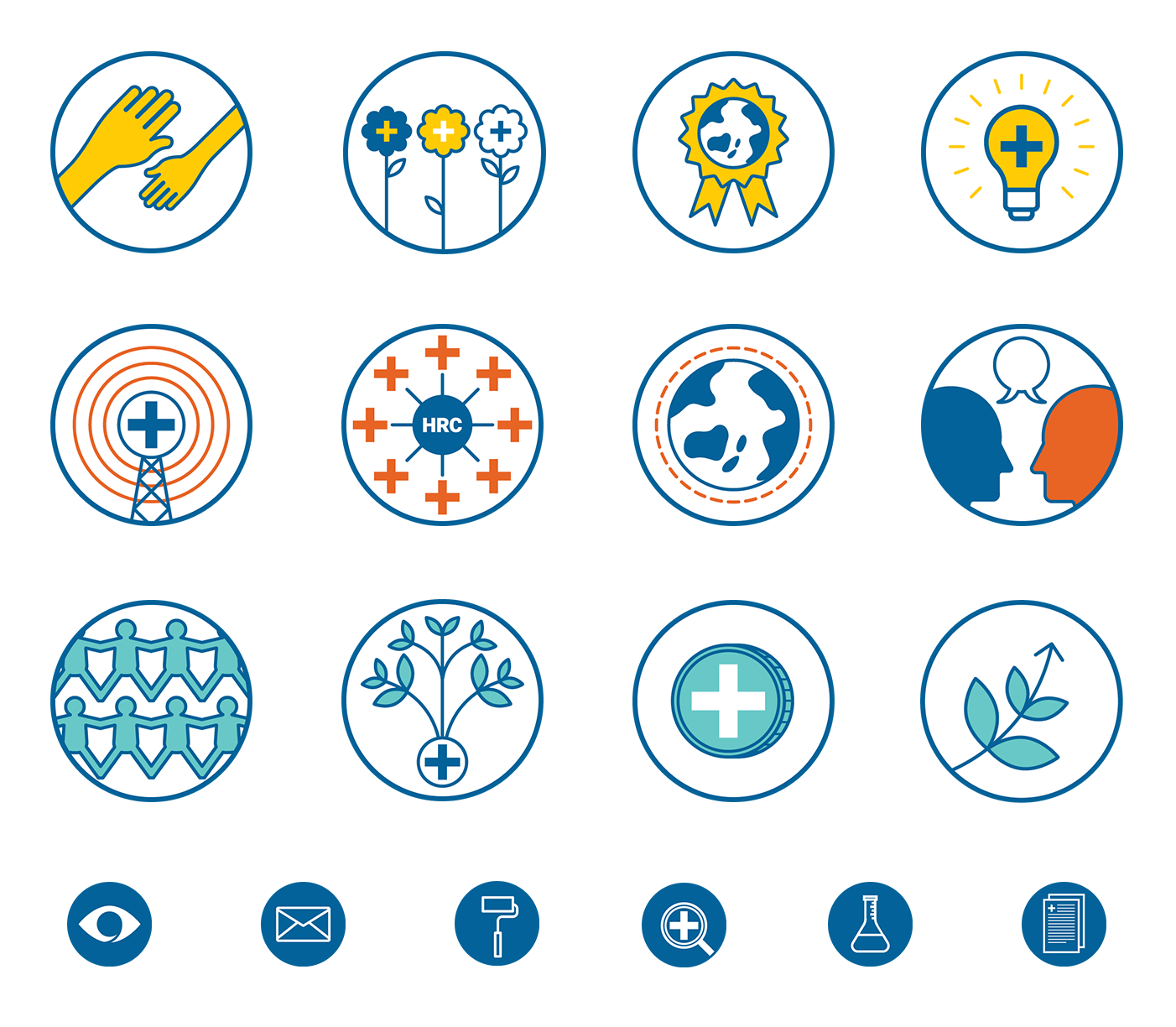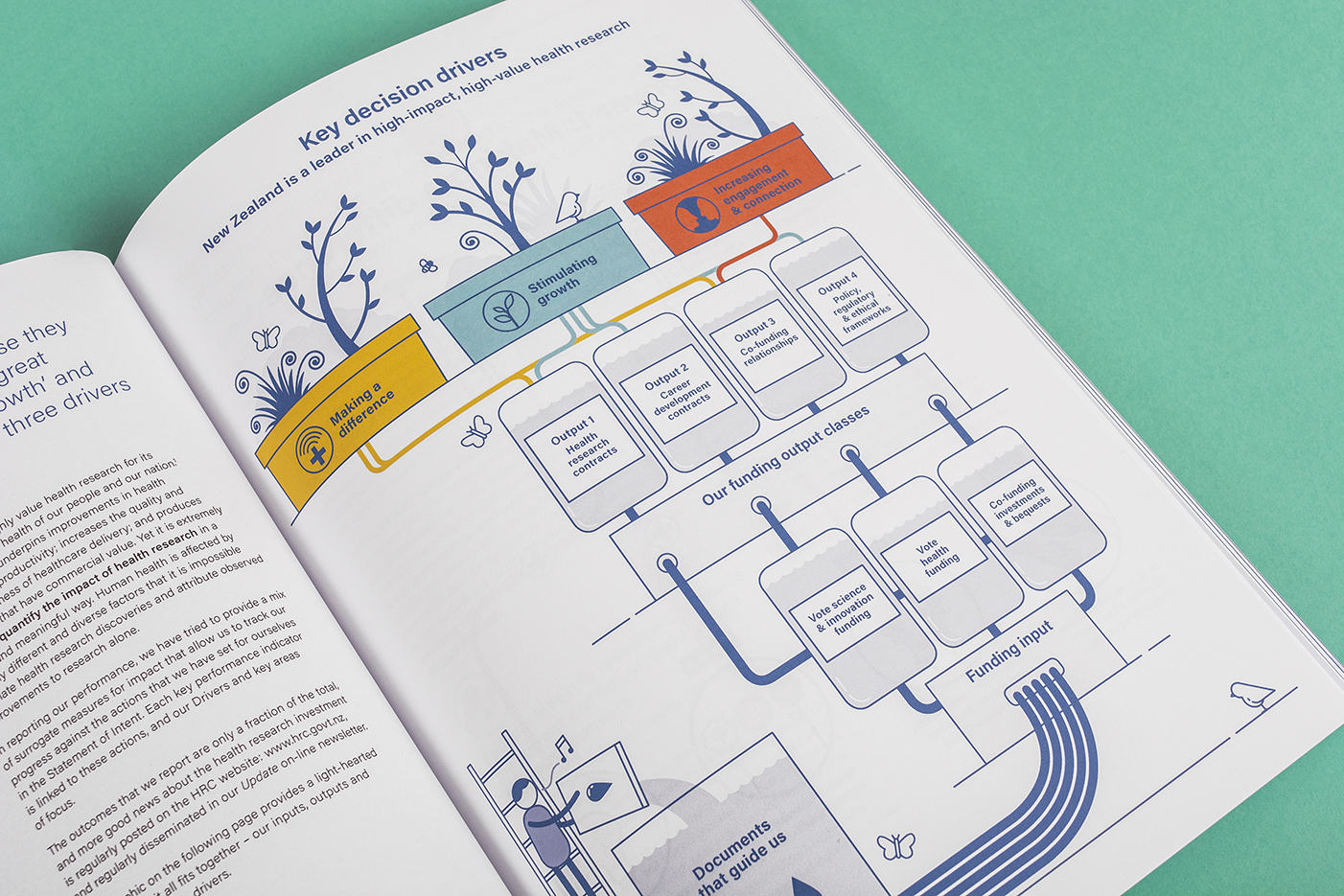 The outcome of the project was the creation of a unique and fresh suite of infographics and publications that established a new style, connected with the audience, and helped expand HRC's brand personality. As well as making the annual report more engaging, the infographics can be reused in various formats to help HRC continue to tell their story of supporting the health of New Zealanders.

Feedback from Health Research Council of New Zealand (HRCNZ):
'Working with Gusto has opened my eyes to the value of engaging a graphic artist to bring complex ideas to life. Gusto took our boring schematics and created fresh, modern images that conveyed our messages in a fun and really original way. Combining these with a fresh and modern layout delivered a document that is so much more impactful than we could have managed alone. The Gusto team are incredibly professional and flexible, working to time frames that we thought would be impossible. It was a pleasure to work with them.'
Infographic suite

Being that FMG's reports are discussed with the client face-to-face, the introduction of these illustrative infographics were designed to help prompt discussion. Pieces of important information have now been given much more attention, further clarifying for the client the relevant risks and data around their farm and household.


As farmers also rely on online communication, the next stage was to supply the infographic suite in a format for FMG's website. They saw this as a perfect opportunity to bring these to life by turning them into animated gifs.
The way the static infographics were created made for a straight-forward conversion to animation. The addition of movement and storytelling allowed FMG to further reinforce the main message behind each statistic in an even more engaging way.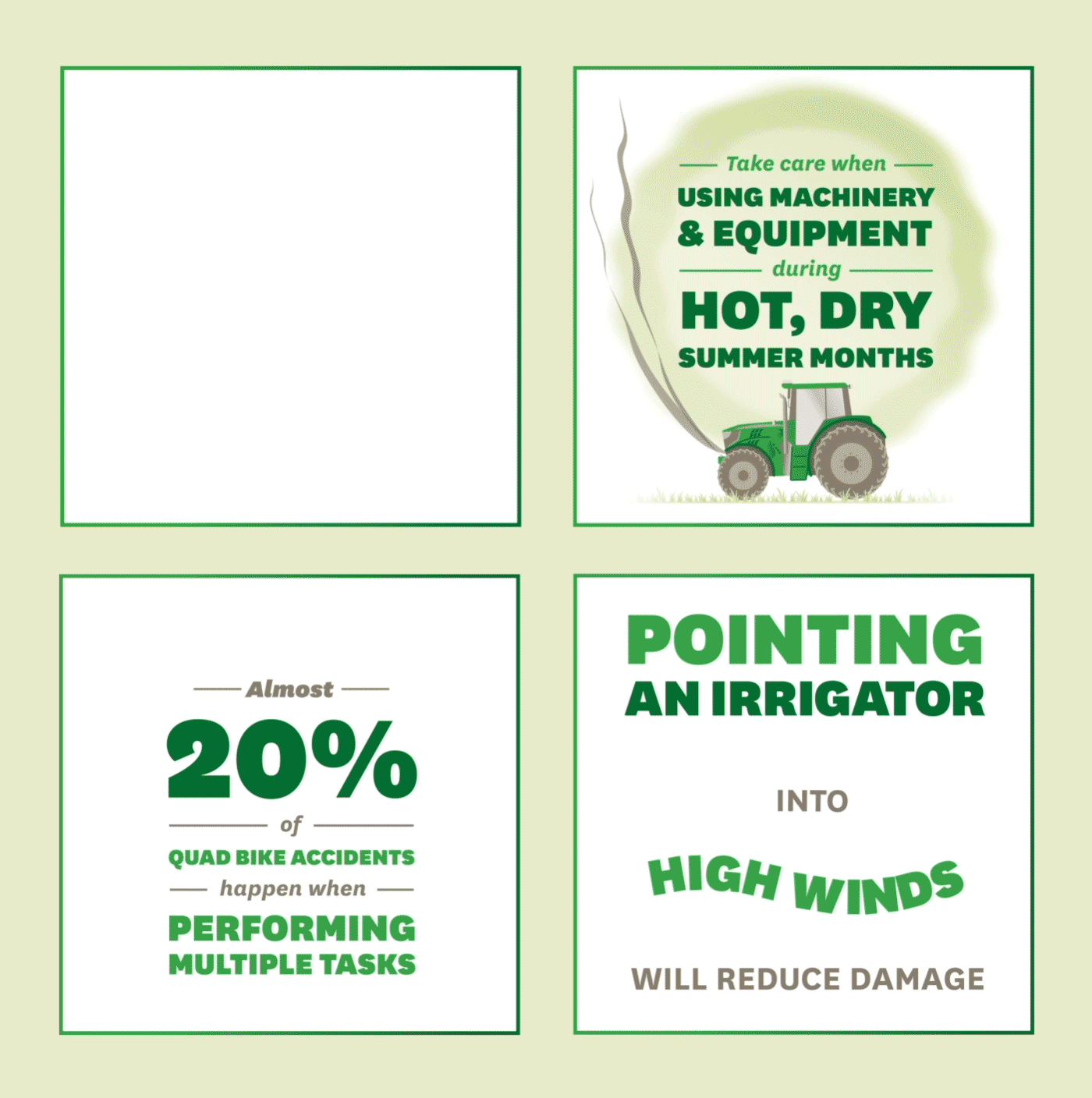 Starting with a list of claim statistics on a Word document, FMG now own a suite of infographic collateral that can be used across their print, website and social media platforms in a variety of ways. One of these animated infographics shared on the FMG Facebook page already has over 50,000 views!
Future State brochure
NZQA asked us to put together a brochure to illustrate the future of New Zealand's qualifications framework. This vision combines the interests of learners, communities, employers, schools and tertiary providers.
NZQA wanted us to illustrate this vision as a connected landscape that shows education extends beyond the traditional classroom. Despite referencing the future, the landscape needed to be realistic but not futuristic.
Our approach depicts this landscape as a single scene, with each activity illustrated by a person or group. These illustrated components link together to take you on a journey through this vision.

Illustration was a great approach for this job because we were able to have complete control over what was included in the scenes, what the landscape looks like, and how everything connects together.
The concertina fold format supports the landscape concept by enabling the five sections to be separated onto different pages, without visually breaking up the connected scene.