The Association of Salaried Medical Specialists (ASMS) is the union for senior doctors and dentists in NZ.
They regularly produce research publications which include fascinating and important data on our nation's health and wellbeing.
Until now ASMS publications have presented data as graphs and tables. We stepped in to transform the same information from a dense report into an accessible and engaging one-page infographic. It centred on the serious topic of work related burnout for their latest ASMS publication. From this design we also created social media content from the assets developed. So ASMS could easily promote and share this information with their members, media and other key stakeholders.
After a collaborative meeting with the ASMS team, we looked closely at the report, analysed the content. From there we developed key messages that we felt would translate well into visual communication. Then created a full page infographic to tell the important story of work-related burnout suffered by our healthcare professionals.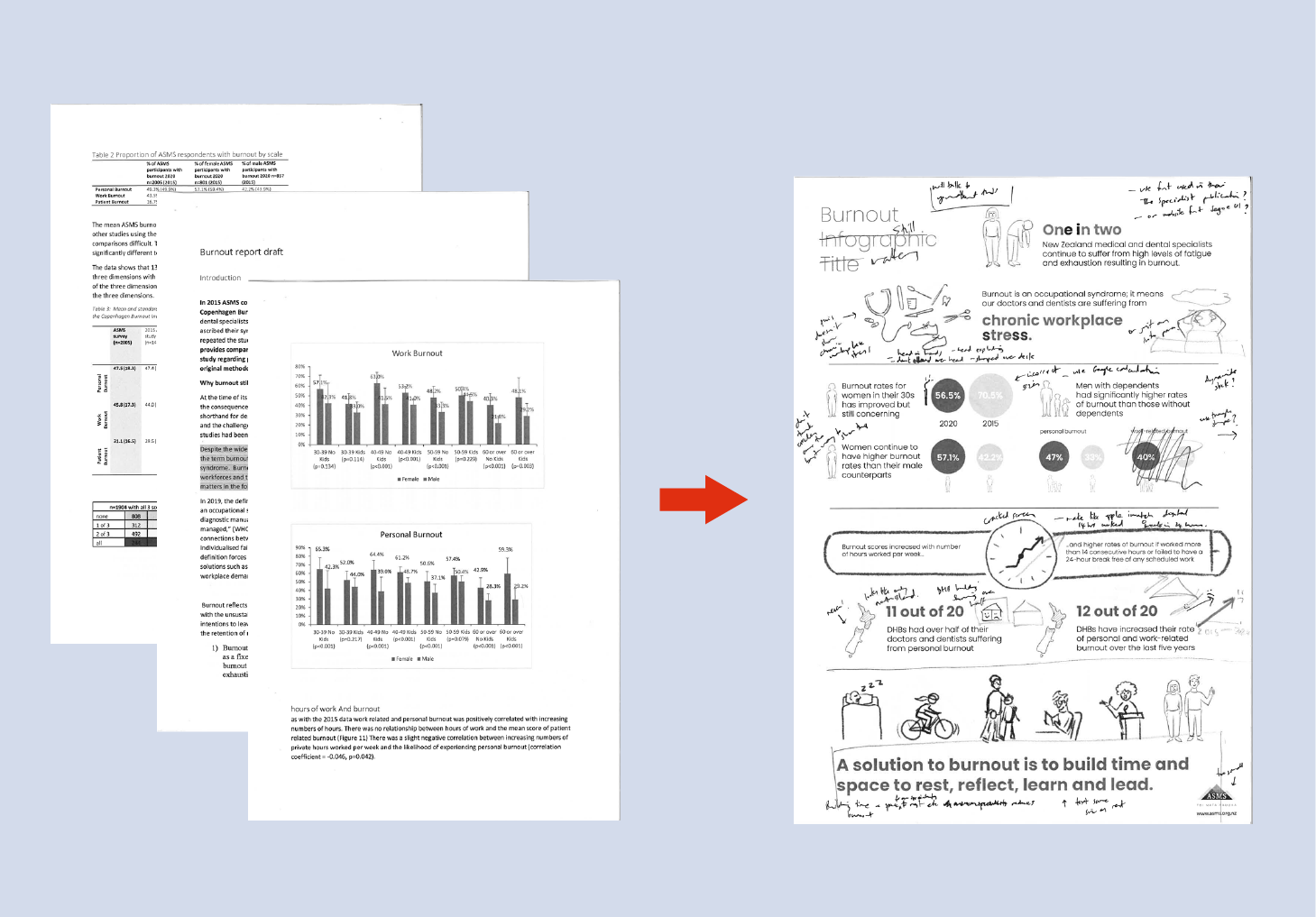 From the printed infographic, we could create bite-sized social media content with the same engaging visuals. These worked to quickly communicate the infographic's key messages to ASMS's audience wherever they were. The visual language developed in the illustrations references the medical profession in a friendly way. It's supported by a bold colour palette that expands on the already established ASMS brand.
All together the message is clear, with information that is now more accessible and easily understood, so ASMS can communicate more effectively with their audience.


ASMS feedback:
'We were searching for a company to create engaging infographics to tell a story out of some dry statistical survey data. Gusto did just that. From the concept stage to the final result the Gusto team was professional, responsive and easy to deal with. Most importantly we felt they really put the effort in to understand our organisation, what we needed and what we were trying to say. We were very happy with the results and will definitely be knocking on their door again.'